DTG14
14,000lb GVWR Gooseneck Dump Trailer
(4.7)
Iron Bull DTG14 Dump Trailer models are built to work. 12" I-Beam neck and risers, 14,000k - 21,000k of GVWR and 3" channel crossmembers with 16" centers. Top tier components come together with the most rugged construction on the market to deliver a dump trailer like no other.
Showing 1-5 of 42 reviews
i have the 14ft gooseneck with high sides.. ive looked at a couple of trailer brands (BigTex - PJ - MaxxD - LoadTrail) ive chosen the Iron bull bec the quality of the welds are the same or better than the higher priced trailers (MaxxD) plus if you look at how they built the trailer its really hard to not choose the ironbull.. i hope the quality and craftsmanship doesnt change bec this is the trailer brand i want on my next purchase..
Derick Schreckenbach - 10/13/2020
Well built trailer at a reasonable price.
Stephen Sawyer - 09/28/2021
Homeowner use about once a week. 7 weeks in.... trailer was shipped without 7-pin charging cable, battery is bad after less than 10 lifts, latch has to be forced shut. I'll be contacting warranty.
John Burfiend - 03/29/2021
We bought the 14' dump trailer. We haul our small backhoe with the trailer as well as various material. The trailer is very well made. The attention to detail is refreshing, such as every hinge can greased. The trailer pulls great and handles loads good.
Lon Baillargeon - 03/07/2022
I just purchased this trailer for work on my property. Material and build quality is excellent. Already hauled 10,000 lbs. of firewood in one load and trailer performed flawlessly.
This trailer is an 83" Wide Gooseneck Dump Trailer with two 7k axles. Other features include standard tarp kit and scissor lift. 12" I-Beam necks and 14,000 lbs of GVWR have enough lifting power to ensure you can always get your job done. Top tier components come together with the most rugged construction on the market, delivering a dump trailer like no other. 7k electric brake axles and radial tires provide a solid foundation for each Iron Bull dump trailer and ample grip for stopping power. Sherwin-Williams Powdura powder coat gives each trailer a rugged finish with a showroom shine. Hydraulic cylinders are the muscle for each Iron Bull dump trailer with remote operated hydraulic pumps that feed the beast.
These trailers come with lifetime LEDs provided by TecNic lighting, and all units are powered by an Interstate deep cycle battery. Each Iron Bull Trailer also comes equipped with stake pockets, locking pump box, 5 position adjustable coupler, multi-function gate and 110v wall outlet charging receptacle for your battery.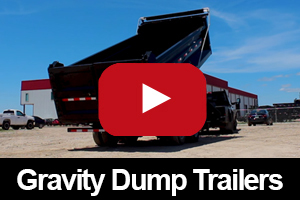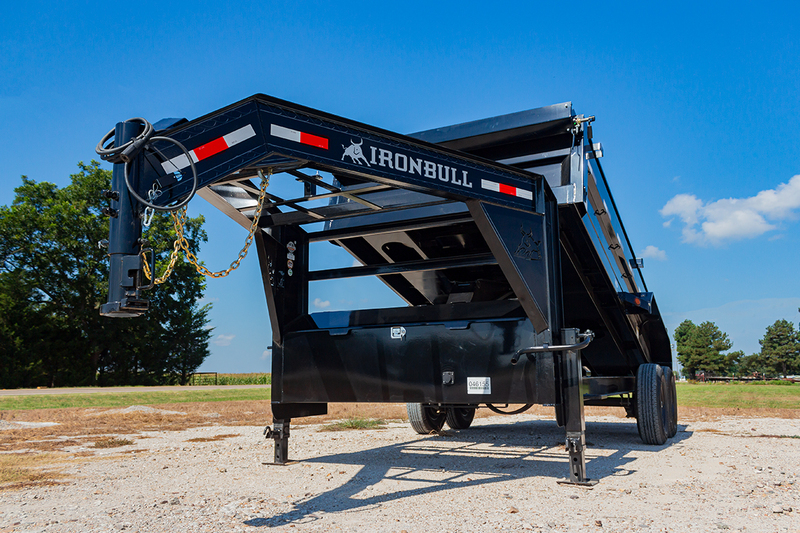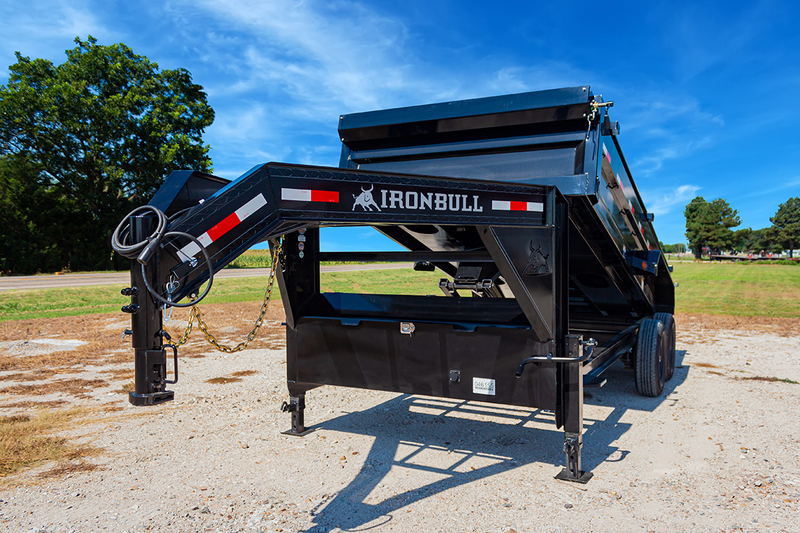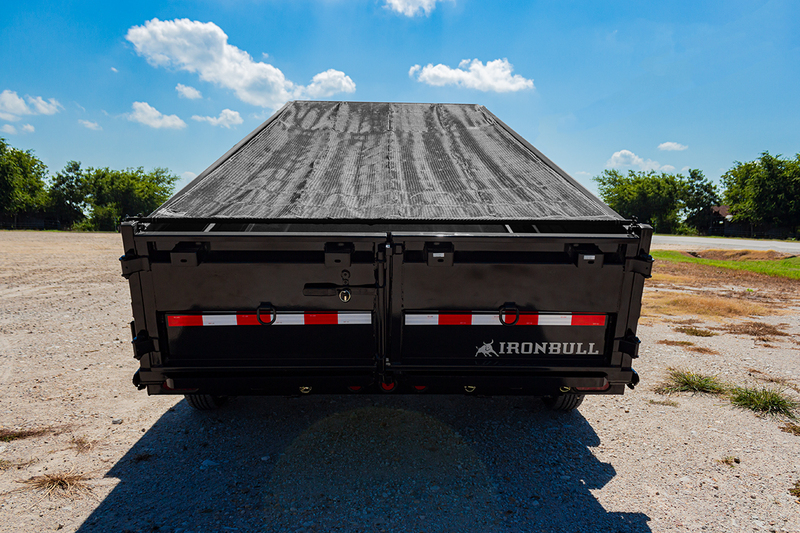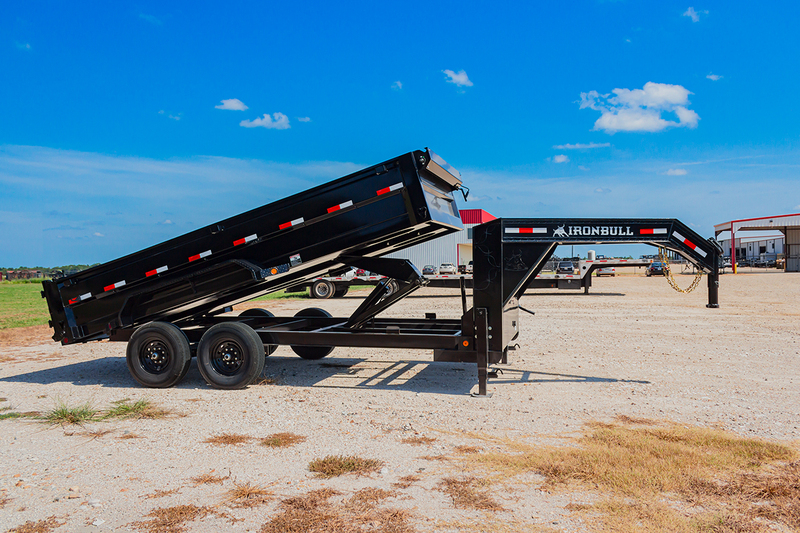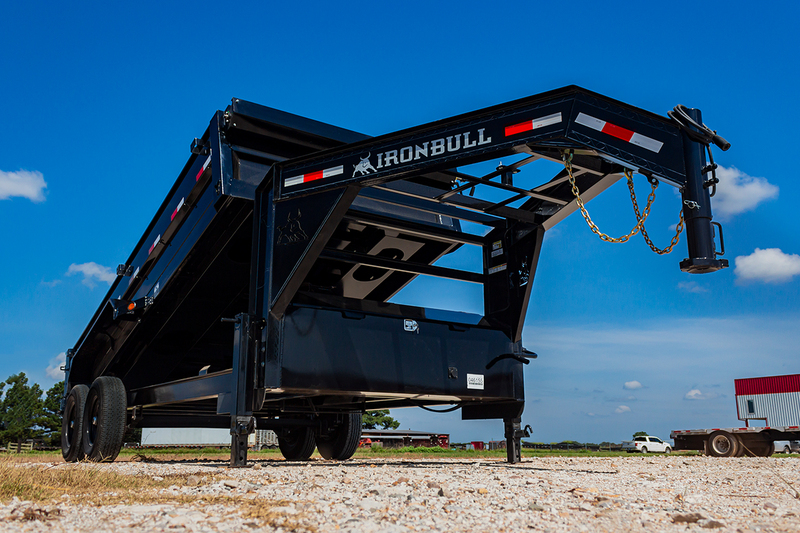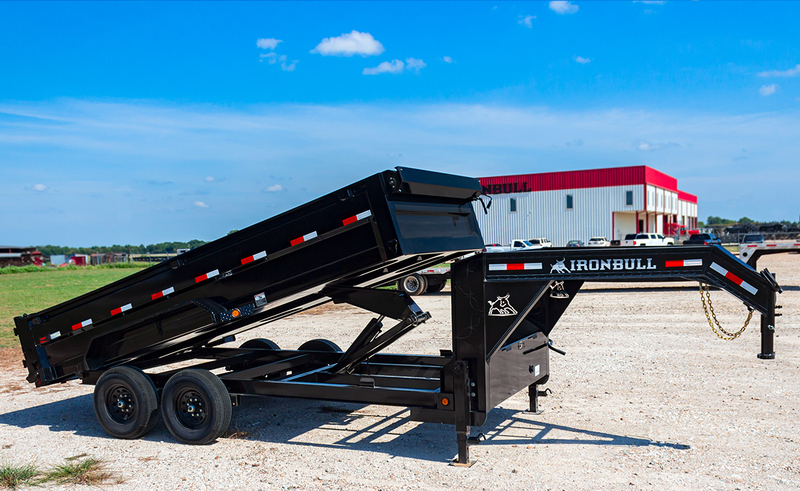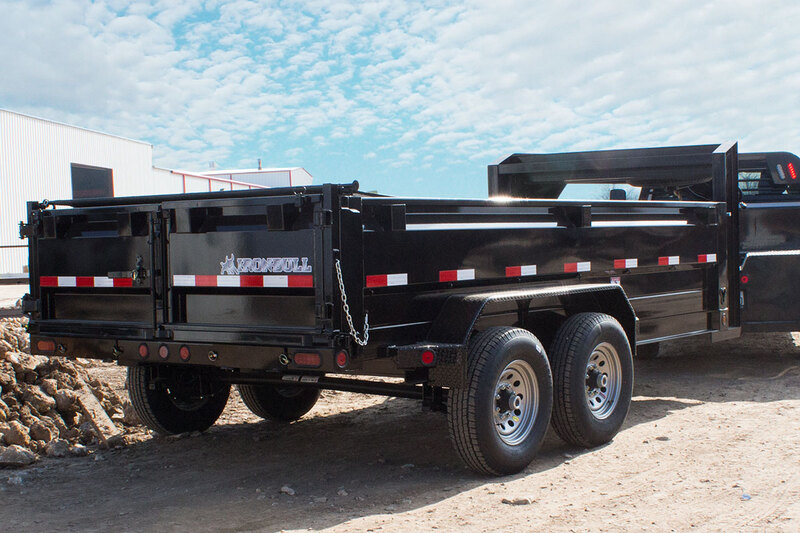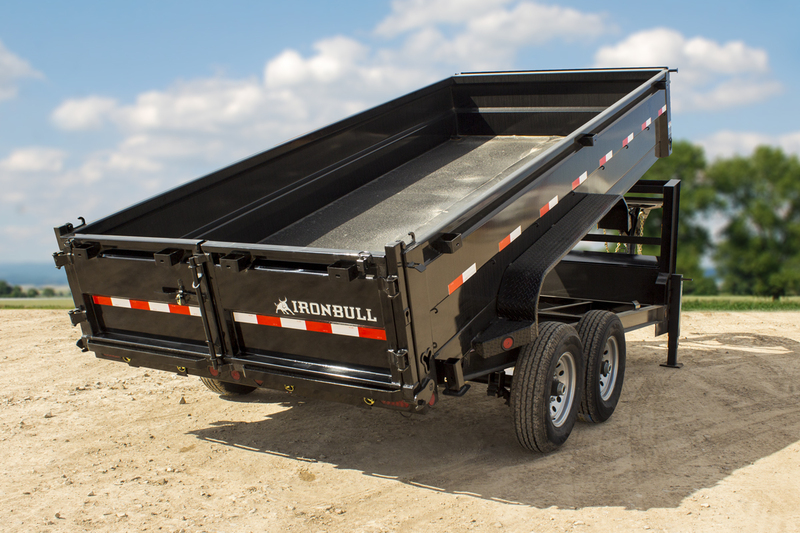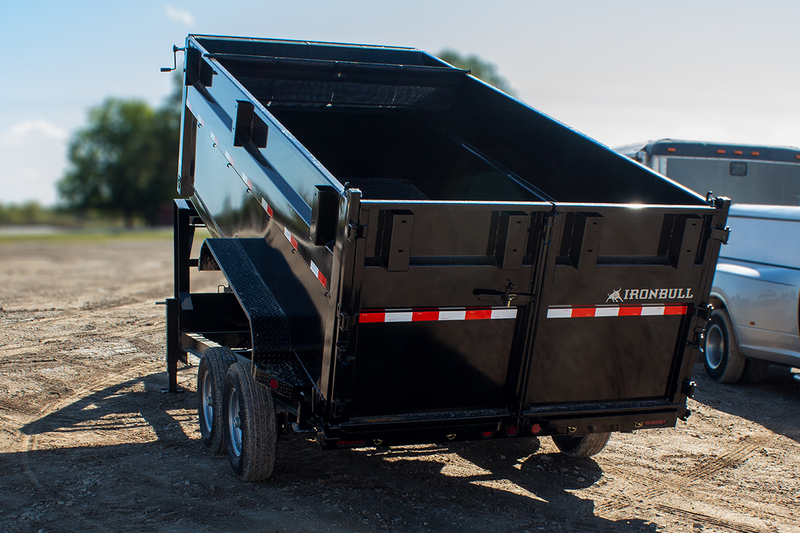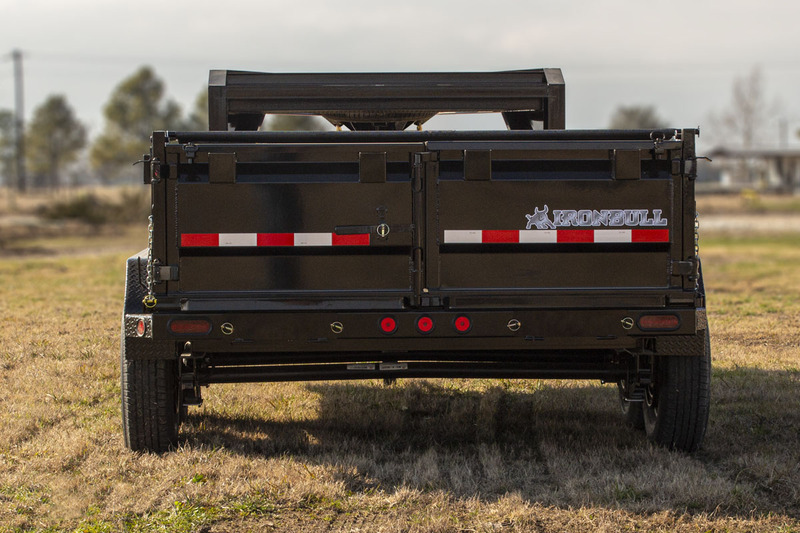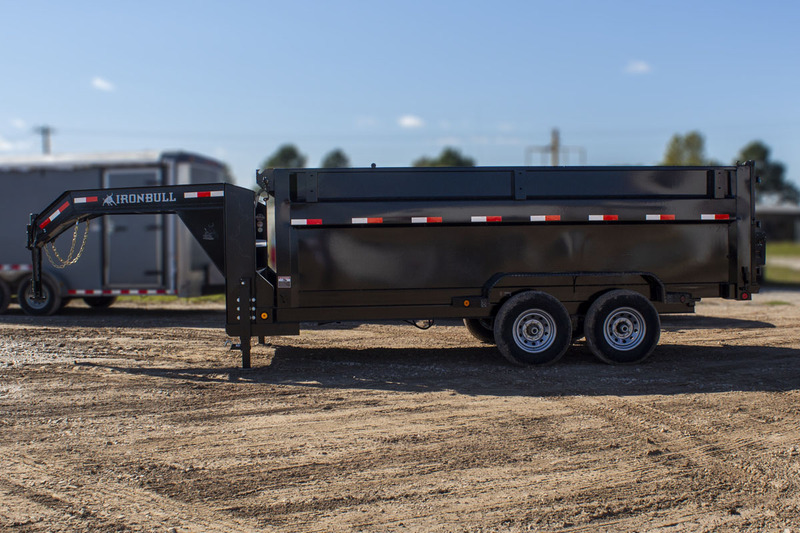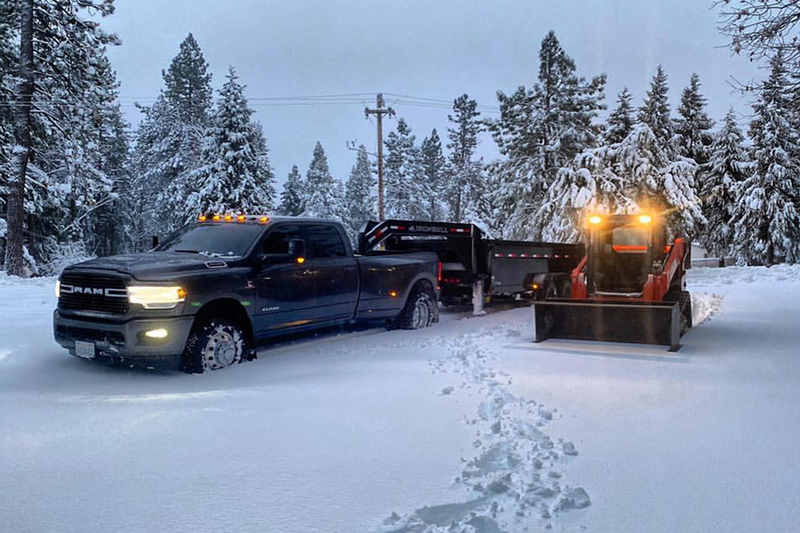 6" I-Beam Frame (12 lbs/ft.)
12" I-Beam Neck and Risers
7 Gauge Steel Flooring
Slide-in Ramps
4" Tubing Bed Frame
Full Length Bed Runners and Ramp Pockets
10 Gauge 18" or 24" Steel Sides
Standard Retractable Tarp Kit
Dual 10k Drop-Leg Jacks
2 5/16" Adjustable Coupler
Cambered Brake Axles
Multi-leaf Slipper Spring Suspension
Black Wheels
Radial Tires
Spare Tire Mount
Rear Support Stand Bracket
Three-Way Spreader Gate
Powdura Powder Coat & One Cure Primer
Scissor Hoist with 516 Cylinder
Double Acting Pump Unit w/ Gravity Down
Flow Control Valve
Locking Pump Box
Standard Stake Pockets
Weld On Diamond Plate Fenders
4 Floor Mounted 5/8" D-Rings
DOT Approved Lighting
Lifetime LED Lighting
Molded Sealed Harness with Resistors
LED Voltage Indicater in Remote
Built-In 5 amp Battery Charger
7-Way Receiver Female Plug with Adapter
Side Steps
*Weight is approximate base model. Optional features will change
Attention: Due to supply chain issues some standard features are subject to change without notice. If a feature is of particular importance for you, please verify with your dealer prior to purchase.

Ramps (14k, 21k) 16" x 80"
3 Stage Telescopic Cylinder
Rear Stabilizer Jacks
2 Speed 10K Drop-Leg Jacks
2 12K Hydraulic Jacks
Solar Charger (1.5Amp)
Deck Over Neck
Cold Weather Harness
Wireless Remote
3-Way Pump
24" Solid Side Extensions
Available Side Extensions
3' - 4' Side Walls
Triple Axle Available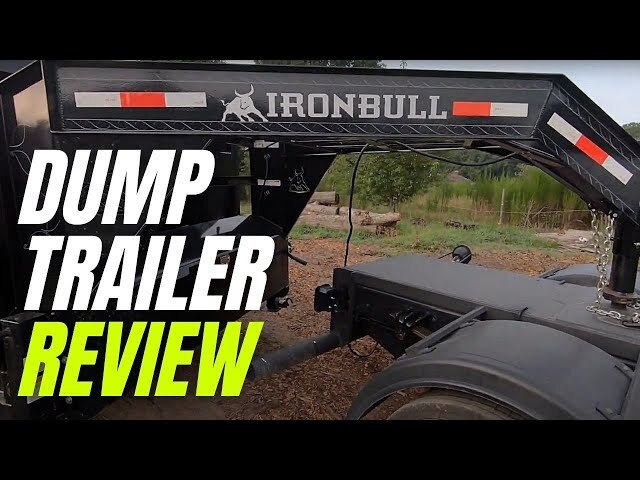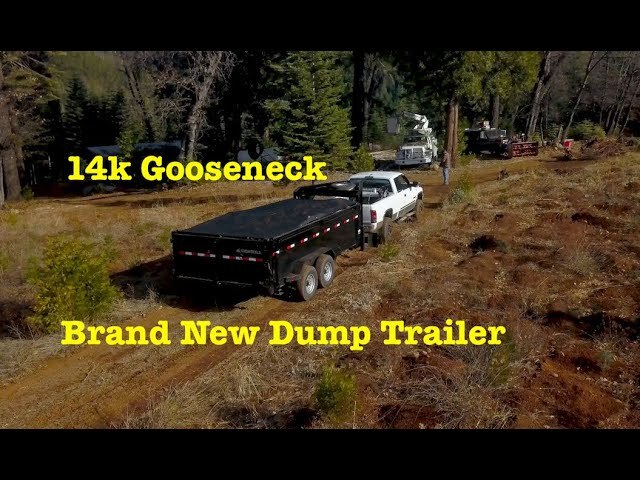 Let's Roll
You won't find a better warranty for a better trailer anywhere else. We've got you covered. With the best in class trailer, best in class warranty, and free roadside assistance, you'll be ready to go in no time... let's roll.
Learn More