DTG14
14,000lb GVWR Gooseneck Dump Trailer
(4.8)
Iron Bull DTG14 Dump Trailer models are built to work. 12" I-Beam neck and risers, 14,000k - 21,000k of GVWR and 3" channel crossmembers with 16" centers. Top tier components come together with the most rugged construction on the market to deliver a dump trailer like no other.
Showing 1-5 of 38 reviews
Michael Affenita - 03/15/2021
Super nice trailer but the dump bed will not seat itself without pushing on the side of the dump bed.
I drove 2,300 miles for my trailer, so I had high expectations picking it up, but had heard horror stories about welds and non finished trailers being sent out. My trailer welds are all completed, all parts are included and nothing missing. Trailer had lived up to my expectations so far and plan on getting a GN flatbed soon.
Garret Desplinter - 02/08/2022
Doug Ferland - 04/23/2021
I ordered this trailer on 10/27/2020 from the (Trailer Station of Chehalis) in "Washington State" and were given an estimated 2-1/2 months for delivery. Finally took delivery on 04/15/2021, 5-1/2 months later. Were told main hold up was waiting for the auto charging system that was ordered with the trailer. For North Star's consideration : Steps the factory may want to take to improve their product ! Not lift the trailer w/ chains wrapped around the upper I-beams front of gooseneck, mars the paint and steel. I had to file sand and repaint these areas. Extend the two stage jacks and the gooseneck adjusting sleeve all the way out prior to painting them, not leaving it for the customer to do. All the grease zerks were painted over, this should never happen. What's even dumber is someone put a grease gun to them and pumped a big gob of grease on each with nothing getting through the zerk. I had to clean each zerk fitting outer and under carriage to get them to accept grease. Found three of the lights two round side markers and one rectangular tail light improperly installed stuffed in sideways with the rubber casing all balled up. I had to pull them back out and remount them. May want to tell person installing them that a little soapy water makes for a much easier install. Bolts used on the tarp cover case were too long, with the dump box in the down position ends of bolts hit and were marring the vertical I-beams. I cut them off even with the end of the nylock nuts leaving a 1/2" clearance. Set screws on flange bearing lock collars used on the ends of the tarp cover shaft were never tightened, but they are now. One other note engineering might want to consider something I added to the trailer 3/8" thick rubber pads glued to the mainframe for the box to nest down on rather than have box bang down hard every time you lower it, vibrating and grinding away at the paint and steel as you go down the road. Excluding these points I do like your trailer. Thanks Doug
1020678995 Racing Ltd - 05/31/2021
This trailer is an 83" Wide Gooseneck Dump Trailer with two 7k axles. Other features include standard tarp kit and scissor lift. 12" I-Beam necks and 14,000 lbs of GVWR have enough lifting power to ensure you can always get your job done. Top tier components come together with the most rugged construction on the market, delivering a dump trailer like no other. 7k electric brake axles and radial tires provide a solid foundation for each Iron Bull dump trailer and ample grip for stopping power. Sherwin-Williams Powdura powder coat gives each trailer a rugged finish with a showroom shine. Hydraulic cylinders are the muscle for each Iron Bull dump trailer with remote operated hydraulic pumps that feed the beast.
These trailers come with lifetime LEDs provided by TecNic lighting, and all units are powered by an Interstate deep cycle battery. Each Iron Bull Trailer also comes equipped with stake pockets, locking pump box, 5 position adjustable coupler, multi-function gate and 110v wall outlet charging receptacle for your battery.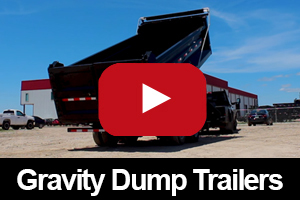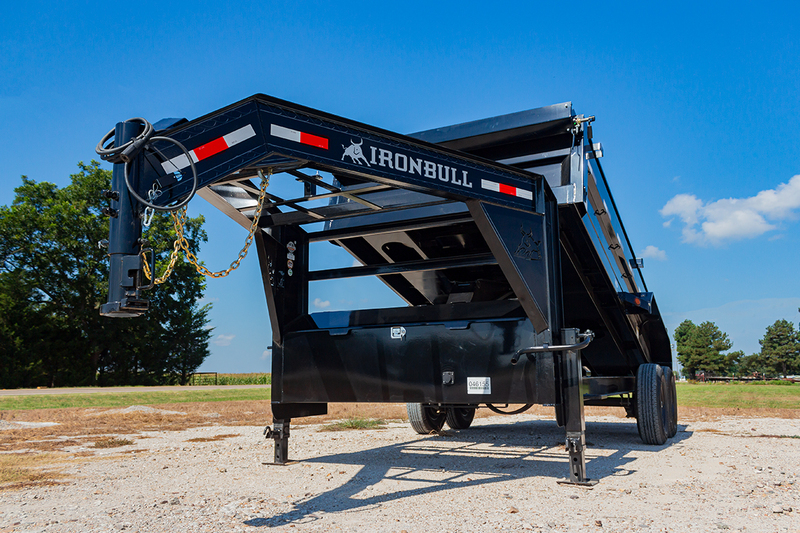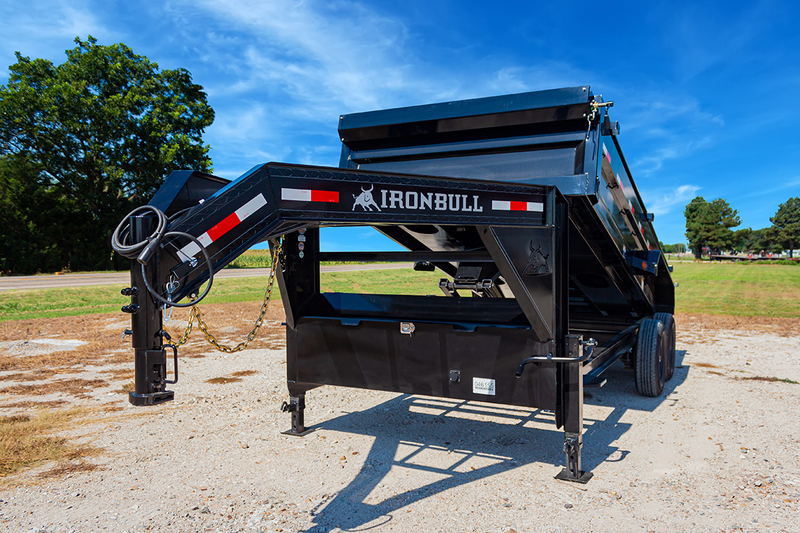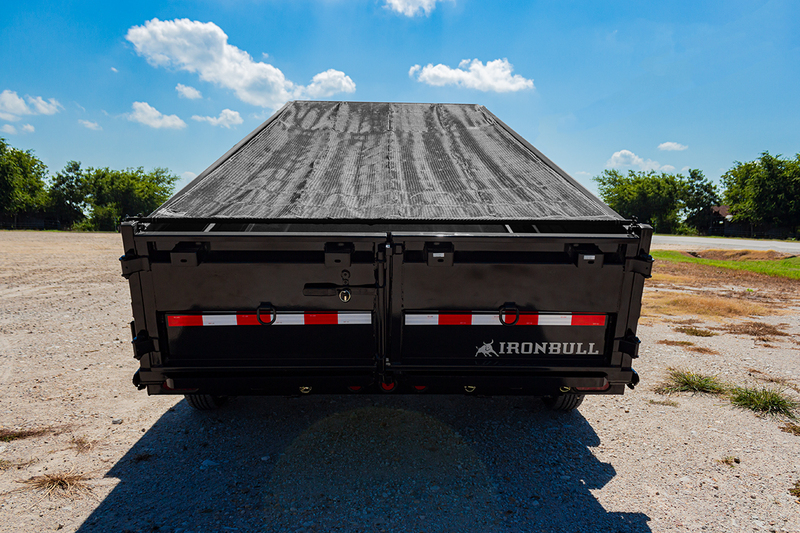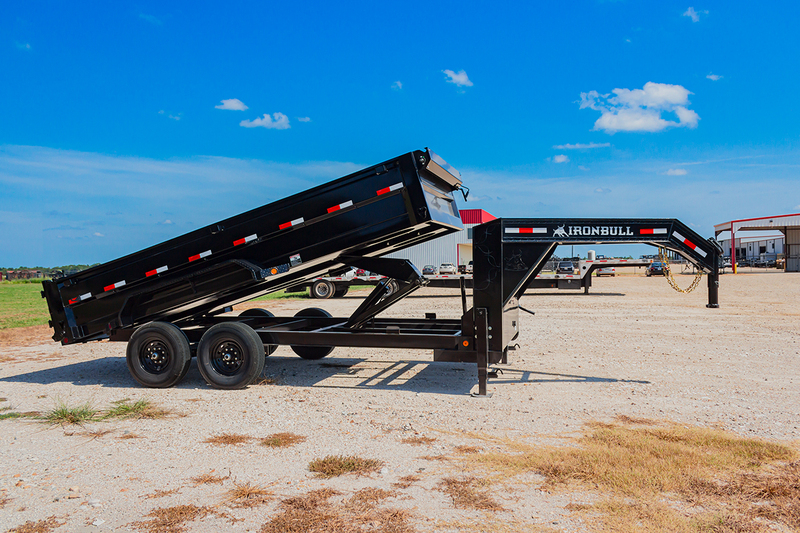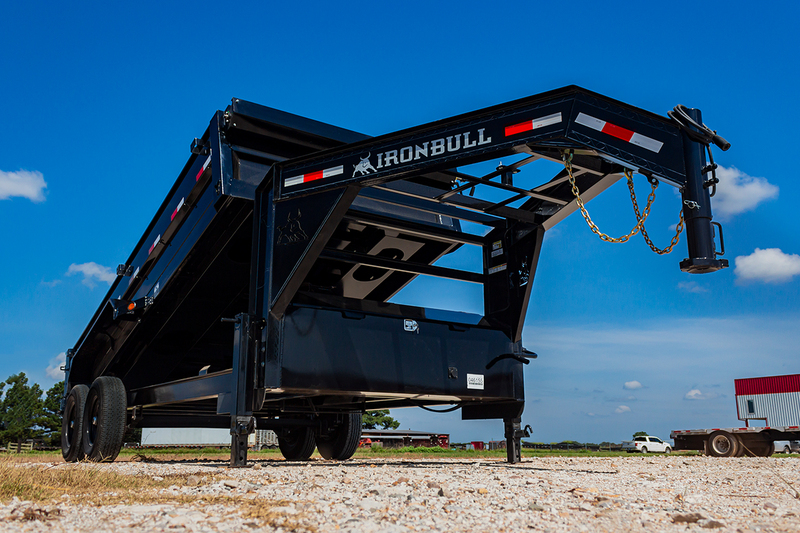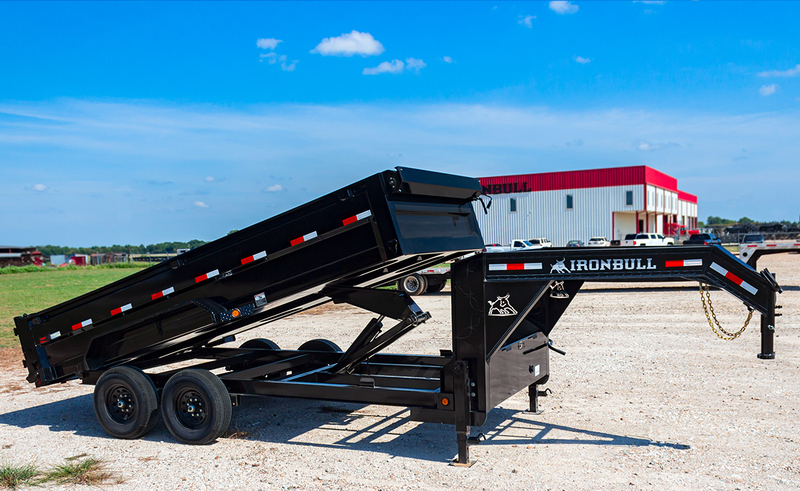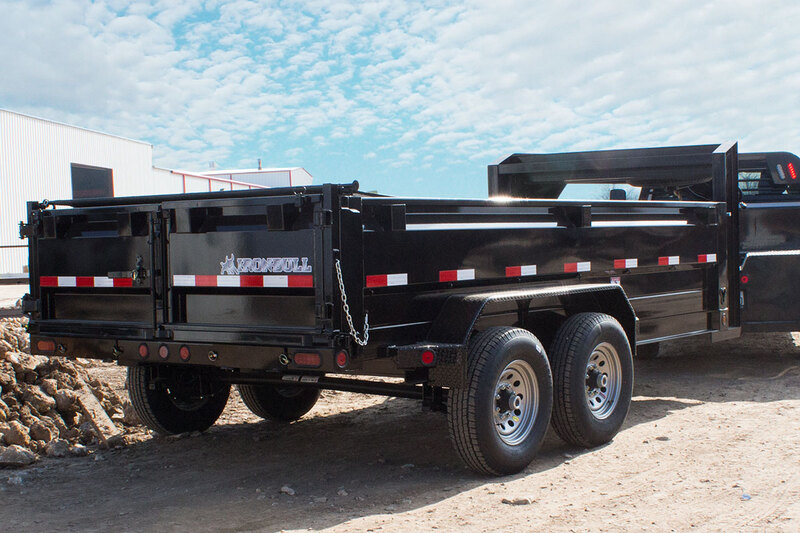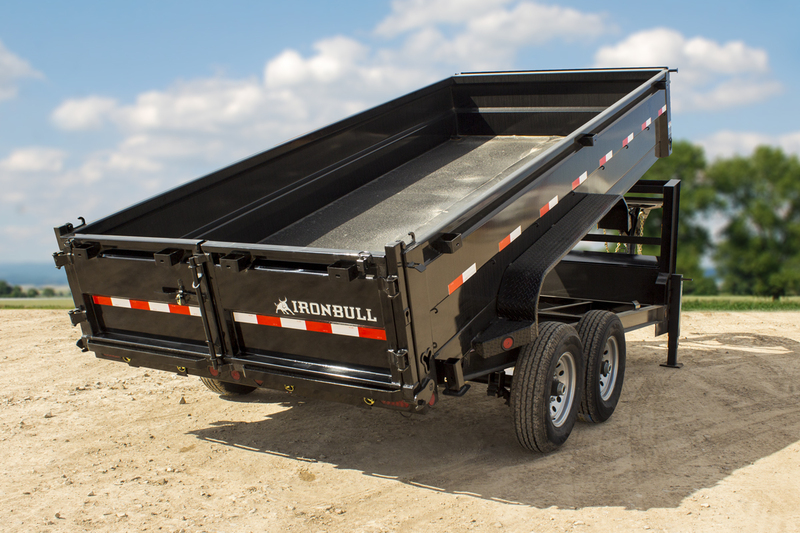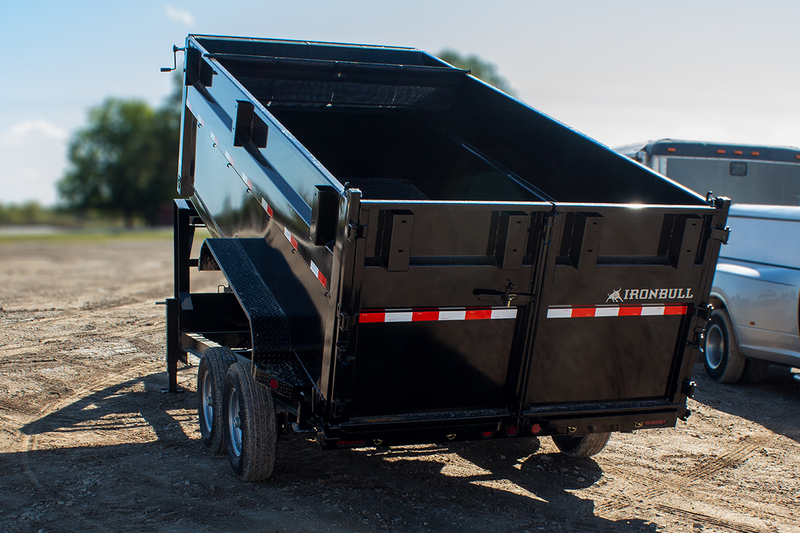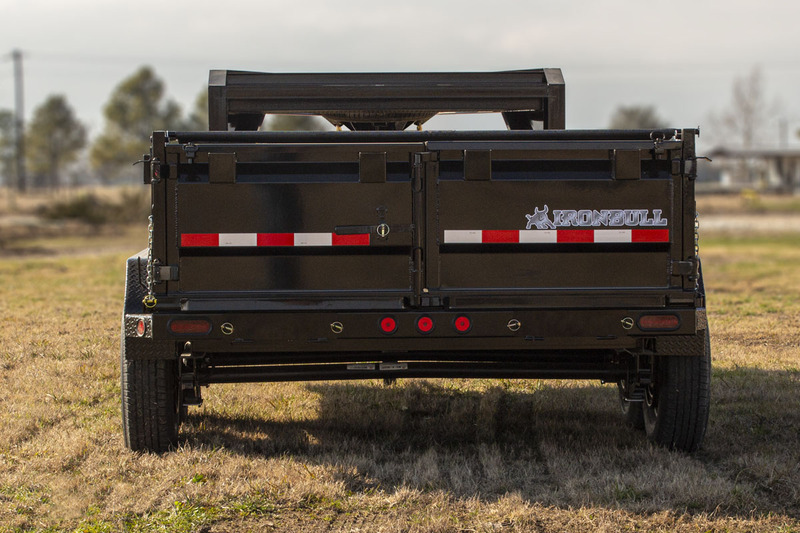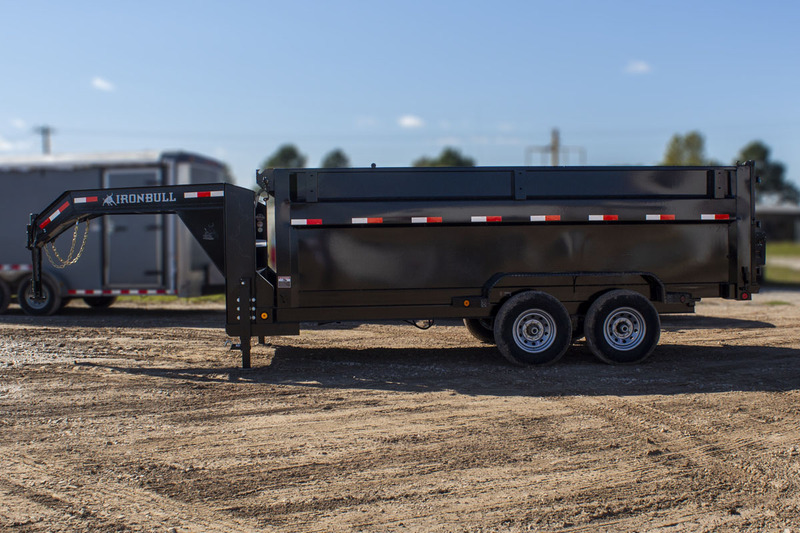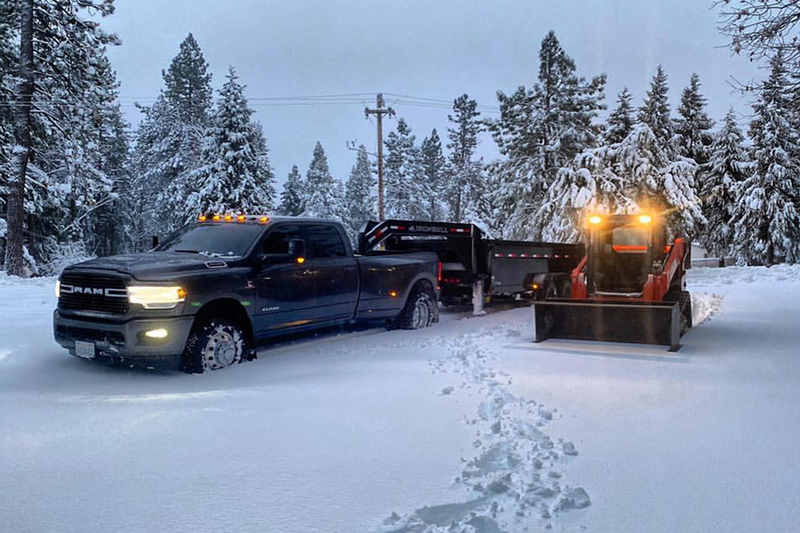 6" I-Beam Frame (12 lbs/ft.)
12" I-Beam Neck and Risers
One-Piece 7 Gauge Steel Flooring *
4" Tubing Bed Frame
Full Length Bed Runners and Ramp Pockets
10 Gauge 18" or 24" Steel Sides
Standard Retractable Tarp Kit
Dual 10k Drop-Leg Jacks
2 5/16" Adjustable Coupler
Cambered Brake Axles
Multi-leaf Slipper Spring Suspension
Black Mod Wheels *
Radial Tires
Spare Tire Mount
Rear Support Stand Bracket
Three-Way Spreader Gate
Powdura Powder Coat & One Cure Primer
Scissor Hoist with 516 Cylinder
Double Acting Pump Unit w/ Gravity Down
Flow Control Valve
Locking Pump Box
Standard Stake Pockets
Weld On Diamond Plate Fenders
4 Floor Mounted 5/8" D-Rings
DOT Approved Lighting
Lifetime LED Lighting
Molded Sealed Harness with Resistors
LED Voltage Indicater in Remote
Built-In 5 amp Battery Charger
7-Way Receiver Female Plug with Adapter
Side Steps
*Weight is approximate base model. Optional features will change
Attention: Due to supply chain issues some standard features are subject to change without notice. If a feature is of particular importance for you, please verify with your dealer prior to purchase.

Ramps (14k, 21k) 16" x 80"
Rear Stabilizer Jacks
2 Speed 10K Drop-Leg Jacks
2 12K Hydraulic Jacks
Solar Charger (1.5Amp)
Deck Over Neck
Cold Weather Harness
Wireless Remote
3-Way Pump
24" Solid Side Extensions
Available Side Extensions
3' - 4' Side Walls
Triple Axle Available
Let's Roll
You won't find a better warranty for a better trailer anywhere else. We've got you covered. With the best in class trailer, best in class warranty, and free roadside assistance, you'll be ready to go in no time... let's roll.
Learn More