SD
Norstar Service Deck Bed
(4.4)
The Norstar SD Service bed is perfect for the tradesman. Our Service Bed offers multiple standard tool boxes and many options for your on-the-go needs.
Showing 1-5 of 13 reviews
Jeromy Spencer - 03/17/2022
Larry Bryant - 01/17/2022
I put in septic systems so having a bed that I could put my tools in is very important to me. This bed does the job.
Heath Mitchell - 04/01/2021
I bought this bed to replace the stock one. I needed to be able to carry all of my tools and access them easily when needed. This bed allows me to do that and I love it.
Terrance Strickland - 05/10/2022
Okay, this is my second northstar bed, firs tone is a hauler bed on a ram i purchased at pearman motors. This one I bought today I drove home after the install. Kept getting faults, due to dealer leaving sensors off. I get home and look to see if sensors were under the truck. They were not. While I was underneath I looked at the installation, incorrectly sized cross members and lack of welding, I would not even give the welder credit for a tac weld. No beads, no penetration at all, not the bed runners or the metal they used as a crossmember. Not even hot enough to burn the powder coat. I am supposed to pull a 28k fifth wheel with buggies, supplies and tools with it? Northstar needs to fix this. The dealer is going to kill someone. So I continue looking at the bed, My daughters could weld better than your plant welder when they were 12 years old. welds missing, pinholes. Toolboxes full of water. one hole is 1/4-3/8' long and .030 wide. How did thisa thing make it out of your plant. Slag everywhere, shitty powder coat right over the top. What you dont grind the lincoln bird turds off at least? Fix your welds? Just painbt over it and send it down the road. Parts of the bed didnt even get powder coat. Now when this dealer was contacted before purchase, I asked specificall if this bed had the alluminum accents and stainless fenders. C drawers, Was told yes to all 3. Well guess what. No alluminum and stainless, no c drawers. But I need a bed and i already am here. I pay 10,200.00 dollars for this. I am not a welder. But I manage operations for a rather large private equity firms oil company. In the field. I do surface construction, pipeline, wellbore and reservoir engineering. I sign off on stuff that similary, carries exposure and risk for generations, much similar to Northstar putting their name and logo on something and failing to train dealers on proper installs. I am not impressed, My truck goes into the paint shop to fix the front fender and door from a deer strike tomorrow, this is why i bought a new bed, damage to fiberglass one from the same deer strike. But you see I feel like i am going backwards now. So I lost all confidence in your dealer and Northstar. I know Northstar is capable of providing a bed that is quality, and installing at factory to make it right. Hopefully your willing to earn my confidence back as well. Here is a link to a short video you can watch on FB. https://www.facebook.com/100035466292555/posts/707240283801508/?d=n
This bed comes with 2 vertical cabinets, 2 angled boxes, 2 top boxes, and 2 rear underbody boxes - plus a bonus locking rear shovel compartment for tons of storage. Multiple option choices allow you to build this bed to your industry. All doors are gas shock equipped and locking paddle latches are standard - as well as a serviceable, tamper-resistant integrated door hinge system. Our 2.5" receiver allows you to add a hitch for bumper pull cargo and a 2 5/16" gooseneck ball is standard in case you are hauling a heavyweight. Our receivers are lab tested and certified for 18,500 lbs bumper capacity and 30,000 lbs gooseneck capacity. Standard adjustable galvanized tool trays with available cabinet tool drawers can add the finishing touch if you have a lot of parts or tools for your workload. Dual LED rear work lights and cast aluminum light housings, as well as tail gate, are standard features on the SD. These beds are a perfect complement for any single or dual wheel work truck with smooth 12 gauge sides, 11 gauge bumper and gloss black powder coating.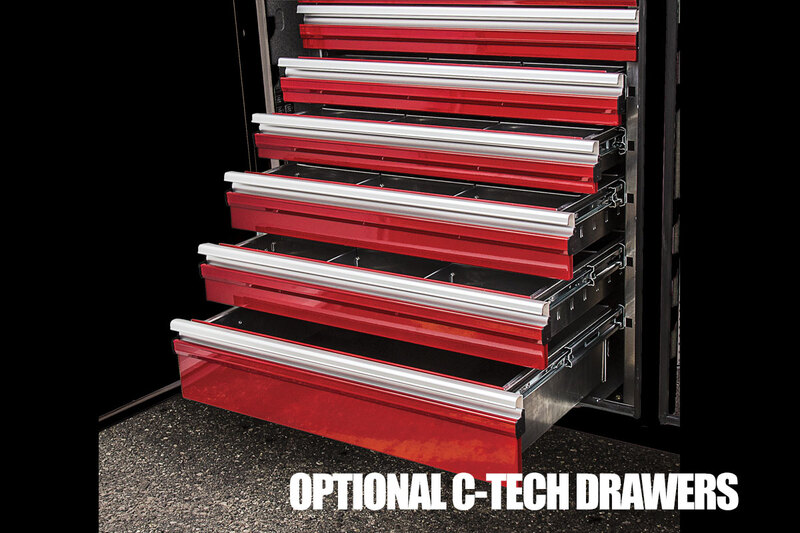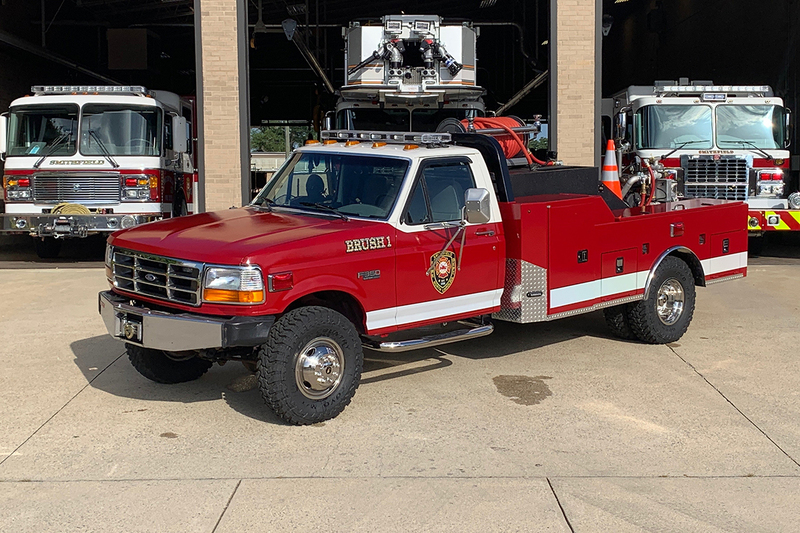 Steel Structural Frame
2.5" 18.5k Rated Bumper Receiver
30k Rated 2 5/16" Gooseneck Ball
4" Runner Channels (Adjustable on 56" CTA Only)
Formed 3 x 3/16" Channel Cross Members
Steel Tube Head Rack w/ Cross Bars
Steel 1/8" Diamond Plate Floor
Fold-Down Tail Gate w/ Latch
Built in Gooseneck Well With Ball Mounted & Diam Plate Lid
Angled Fuel Filler Neck & DEF Ready
Skirted Rear Bumper w/ Anti Slip Step
Receiver Hitch Ready
4 Tool Boxes w/ Locking Chrome Paddle Latches (6 on 11'4")
Rear Lockable Compartment 27" x 38" - 78"
12Ga Steel Construction w/ 11Ga Bumper
Mud Flap Brackets
7 Way Plug in Gooseneck Box
LED Head Rack Work Light
Adjustable Black Smooth Fender Flares
Primer & Powder Coated Black
3/4" LED Marker Lights
4 Clear 6" Oval LED Reverse Lights
6 Red 6" Oval LED ST/TL/TN Lights
Single LED License Plate Light
Side & Rear Reflectors
Dual LED Work Lights
Single LED Rear Head Rack Work Light w/ Switch
All Lighting DOT Approved
Molded Sealed Harness w/ Resistors
7 Way Receiver Female Plug w/ ADAPTER
7 Way Plug in Gooseneck Well
Adjustable Galvanized Shelves in Front Tool Boxes
*Weight is approximate base model. Optional features will change
Attention: Due to supply chain issues some standard features are subject to change without notice. If a feature is of particular importance for you, please verify with your dealer prior to purchase.

Extend Head Rack From Standard Height
C-Tech 6 Drawer Package (not available on 84'' long)
B & W Turnover Ball 2-5/16"
Package 02 Includes: (2 Items Listed Below)
Aluminum Diamond Plate Skirt Cover
Stainless Steel Fenders
Package 07 Includes: (6 Items Listed Below)
Chrome Accent Light Package
Chrome Light Housing (not available in SRW)
Chrome License Plate Housing
Aluminum Diamond Plate Skirt Cover
Aluminum Diamond Plate Top Toolbox Cover
Stainless Steel Fenders
Let's Roll
You won't find a better warranty for a better trailer anywhere else. We've got you covered. With the best in class trailer, best in class warranty, and free roadside assistance, you'll be ready to go in no time... let's roll.
Learn More