SD
Norstar Service Deck Bed
(4.6)
The Norstar SD Service bed is perfect for the tradesman. Our Service Bed offers multiple standard tool boxes and many options for your on-the-go needs.
Showing 1-5 of 12 reviews
Awesome service deck. Already put the storage cabinets to use - no more looking like the Beverly Hillbillies with a bed loaded with black and yellow totes. The shovel box works perfectly for hauling a collapsible dog crate.
I bought the bed because I'm tryin to become more efficient I can't say I was impressed with the quality of paint. I do like a lot of things about this bed over the competitors, one being the price point was a little more reasonable and the corner box doesn't seem like much up front but is definitely something that made me really like this bed, another feature I like about the bed was the bumper on the back and the tool rack under the bed. I also like the fact it actually comes with lights and all Necessary wiring is already in place, the last thing about the I really like is the lights inset in the bed, I do also like the fact they still use the easy to get and very universal 6inch oval lights rather then something you can't go to your part store to get . The last thing is I'm impressed with Omar guy was a great help and went above and beyond and found a bed something other companies didn't try to go out of their way and told me off. Appreciate it Omar!
I put in septic systems so having a bed that I could put my tools in is very important to me. This bed does the job.
Purchased my Norstar SD bed for my short bed single rear wheel F250. Love the bed, very well built and high quality. Great service and prompt delivery from the folks at Mouser Steel and also Norstar. Very much recommended!!
This bed comes with 2 vertical cabinets, 2 angled boxes, 2 top boxes, and 2 rear underbody boxes - plus a bonus locking rear shovel compartment for tons of storage. Multiple option choices allow you to build this bed to your industry. All doors are gas shock equipped and locking paddle latches are standard - as well as a serviceable, tamper-resistant integrated door hinge system. Our 2.5" receiver allows you to add a hitch for bumper pull cargo and a 2 5/16" gooseneck ball is standard in case you are hauling a heavyweight. Our receivers are lab tested and certified for 18,500 lbs bumper capacity and 30,000 lbs gooseneck capacity. Standard adjustable galvanized tool trays with available cabinet tool drawers can add the finishing touch if you have a lot of parts or tools for your workload. Dual LED rear work lights and cast aluminum light housings, as well as tail gate, are standard features on the SD. These beds are a perfect complement for any single or dual wheel work truck with smooth 12 gauge sides, 11 gauge bumper and gloss black powder coating.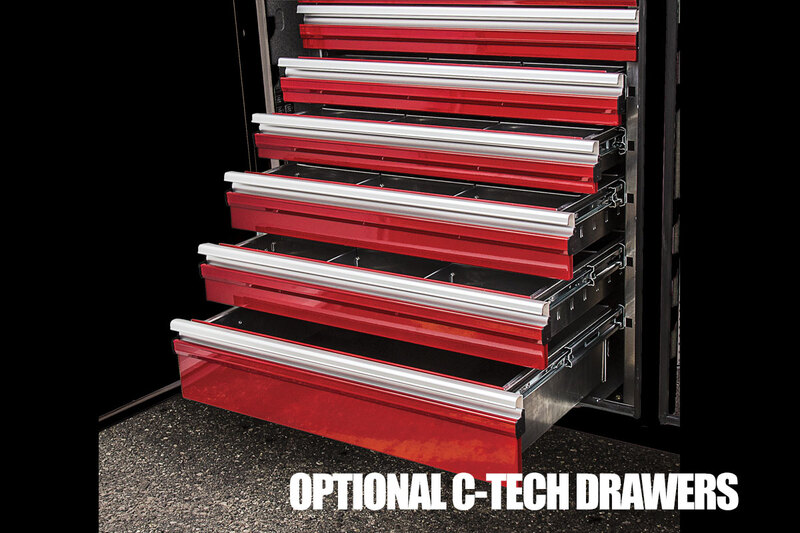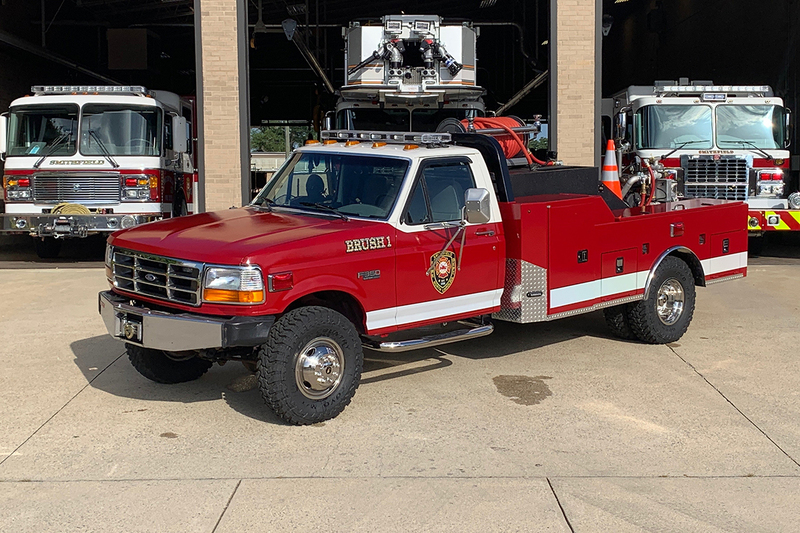 Steel Structural Frame
2" 18.5k Rated Bumper Receiver
30k Rated 2 5/16" Gooseneck Ball
4" Runner Channels (Adjustable on 56" CTA Only)
Formed 3 x 3/16" Channel Cross Members
Steel Tube Head Rack w/ Cross Bars, Tail & Rev. Lights
Steel 1/8" Diamond Plate Floor
TailGate Fold-Down with Latch
Built in Gooseneck Well w/ Ball Mounted & Diam Plate Lid
Angled Fuel Filler Neck & DEF Ready
Skirted Rear Bumper w/ Anti Slip Step
Receiver Hitch Ready
4 Tool Boxes w/ locking chrome paddle latch on Each Side (5 on 11'4")
Rear Lockable Compartment 27" x 38" - 78"
12 Ga Steel Construction
Mud Flap Brackets
7 Way Plug in Gooseneck Box
LED Head Rack Work Light
Adjustable Smooth Flare Fenders
Powder Coated Black
3/4" LED Marker Lights
4 Clear 6" Oval LED Reverse Lights
6 Red 6" Oval LED ST/TL/TN Lights
Single LED License Plate Light
Side & Rear Reflectors
LED Rear Work Light w/ Switch on Headrack
All Lighting DOT Approved
Molded Sealed Harness w/ Resistors
4/5 & 7 Way Receiver Female Plug w/ ADAPTER
Adjustable Galvanized Shelves in Front Tool Boxes
*Weight is approximate base model. Optional features will change
Attention: Due to supply chain issues some standard features are subject to change without notice. If a feature is of particular importance for you, please verify with your dealer prior to purchase.

Extend Head Rack From Standard Height
Smooth Stainless Steel Polished Fender
7 Way Plug Installed in Gooseneck Box
Chrome Accent Light Package
Available Side Drawer Packages
Mudflap Mounting Brackets
Aluminum Diamond Plate Trim
B & W Turnover Ball 2-5/16"
Let's Roll
You won't find a better warranty for a better trailer anywhere else. We've got you covered. With the best in class trailer, best in class warranty, and free roadside assistance, you'll be ready to go in no time... let's roll.
Learn More